---
Are you struggling to write on Twitter?
Discover How to Use "The Looking Glass Technique" to Destroy Writer's Block And Create Killer Tweets & Threads in Less Than 15 Minutes a Day
You don't need to be a great writer to enjoy great results - this approach will 10x your engagement almost overnight
---
Do you believe in Writer's block?Maybe you've sat staring at the blank screen trying to squeeze out interesting ideas...Or you think it's "part of the process" to spend painstaking hours creating the perfect tweet or thread...And even if you finally hit publish, 90% of your ideas disappear into the void.Sound familiar?I wrote like that for a year.And in the next 5 minutes I'm going to show you why you don't have to.You'll discover how you can go from complete beginner on Twitter with zero ideas and zero engagement to getting hundreds and thousands of likes per day... and do it consistently.What's more...You'll learn the "Looking Glass Technique" that will help you create viral tweets and threads in 1/10th of the time... even if you're not an expert.And you'll see the surprising reason why writer's block is a myth, and precisely who you can blame if you struggle creatively (for now!).You'll also read the little-known technique some of the greatest online writers use to get your ideas heard and build a passionate audience who love to read what you write.
My Twitter statistics - 7 months difference... 10x the result.
And look.If you're sceptical – I get it.I'm just as fed up as you are with generic growth guides.I've bought them all.And let me tell you, this is NOT one of them.They don't make you a better writer and you end up sounding like everyone else stuck using the same old tricks.If you're looking for hacks then this isn't for you.But if you're interested in quickly upskilling as a writer so you can build an audience the right way...Then keep reading and you'll see how.
---
---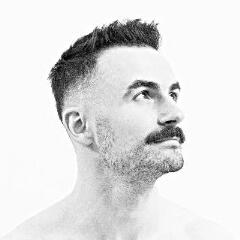 Sorin Tontici
HEALTH & FITNESS SAAS FOUNDER
★★★★★
"I can't believe how easy this has made the writing process"
I started writing on Twitter recently and spent months going nowhere. Kieran's advice changed the game. After a few weeks I had my first taste of virality and have since written threads that got 14,000 likes, 5000 likes and tweets that have done similar. I'm coming up to 6000 followers in 4 months and I can't believe how easy this had made the writing process.
---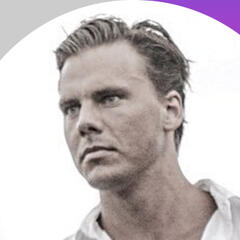 Simmo
RESILIENCE COACH
★★★★★
"Woke up to 7000 more followers"
I used to hate writing. I'd always struggled with sharing my ideas and could never keep consistent…. Now I look forward to it because people are engaging with my work and I'm landing clients just through Twitter as a result. I even wrote a thread recently and woke up to 7000 more followers just from following Kieran's principles.
---
---
---
---
---
---
---
---
---
I'm Kieran 👋
---
12 months ago, I would've been the last person you'd expect to have a business teaching people to write.I was like a lot of people.Stuck in a career I didn't enjoy...Feeling like I wasn't making a difference with my work....Feeling like every morning commute was a mistake.See...I'd always wanted to write.But there was a problem:
---
If you want to be a successful writer, you need to be creative.
---
Because if you can't get people to read your ideas and enjoy your words, then you'll never get the traction you need online.And trust me:I sucked. I didn't have a creative bone in my body. My art teacher laughed me out of my class 15 years ago and I avoiding creating since.(who doesn't think a cow with machine gun udders is a good idea?)
---
---
Your first year writing online can be hell
After 6 months of blogging my only audience were my mum and my girlfriend.(If I'm honest, they weren't reading either).And maybe you can relate...It hurts to write to no one.It's hard to follow the advice "just keep publishing and it will work out" when you're slaving away at the computer for little to no reward.Especially when everyone else makes it look easy.I realised becoming a writer and finding freedom online was a lot harder than the gurus would have you believe...But as my writing dream slowly died, I found Twitter.People were building an audience and a business by sharing a couple of ideas a day...So I told myself one last shot - it looked easy enough!I was wrong.Twitter felt like a party where I was stuck outside watching in the rain.I couldn't get ANY momentum…3 months in I had 150 followers and my digital dream had turned into a dark desperation.I was ready to give up when I stumbled across an idea that changed everything: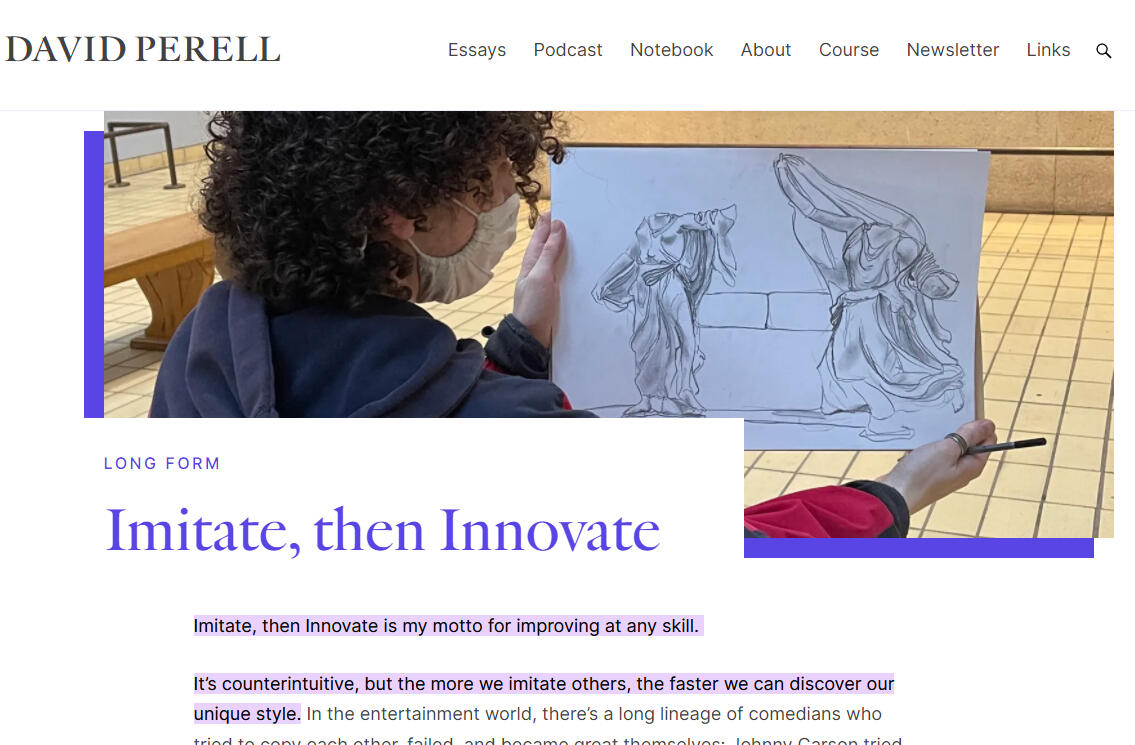 David Perell has 300,000 followers and runs a writing school…I figured if anyone could help, it was him.He explained everyone has the potential to be creative.And that you can blame your school for thinking otherwise.Why?Because they stamp it out of you.No joke:A study by NASA showed that from 5 to 18 years old your creative genius potential drops from 98% to 2%.Which is terrible news if you want to write.But the good news?You can reverse the damage.
---
🔍
The Looking Glass Technique
A simple way to unlock your creativity AND upgrade your writing
---
That same day I stopped writing from a blank screen and spent hours saving tweets from my favourite writers.I set a rule:Everything I write will use other people's ideas as inspiration.And guess what?Likes started trickling in. Not many at first. But even a few felt amazing back then.And then things got interesting.Because I started getting momentum. People were following me. People enjoyed what I wrote.My first thread that went 'viral' almost knocked me off my chair.Overnight, I tripled my audience size....which was insane considering I'd spent so long bleeding away at the keyboard.If you've spent ANY time thinking you're not a good writer or don't have 'natural talent', then listen up:
Twitter is just psychology at scale
Every viral tweet has been psychologically tried and tested because an audience votes with their attention.Every published idea is data...Ready for you to use.Which means when you 'write from abundance' - an idea Perell and other online writers swear by...You get good.Fast.And that's where the Looking Glass Technique comes in:
︱
①
Take what works
There're millions of tweets posted per day. The best go viral and 90% of the time it's because of their format.
②
Use your ideas
The truth is people are interested in what you have to say... but you need to package them if you want to be heard.
︱
③
Create a unique and engaging message
The more you do this, the more you discover what your audience enjoys from YOU...Instead of just hoping that it goes well.
︱
Write like this for 3 months and I guarantee you'll make 3 years worth of progress.Hell, I STILL do it - particularly when I write threads.Because here's the truth:Learning to write is like riding a bike...Without help, it sucks.You never get momentum because you get stuck at the start.But with stabilizers you learn fast…You get past that painful stage of no likes and find your voice quickly.That's what the "Looking Glass Technique" will do for you.I went from zero creativity to high virality in 16 months...From 300 followers to 31000...And when my friends saw my progress, they wanted in.And guess what?They got great results too.
---
---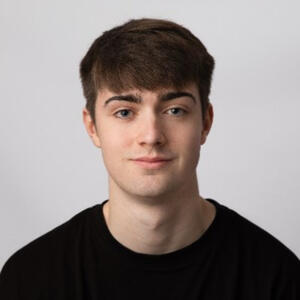 Ciaran Houlihan
email marketing agency owner
★★★★★
---
---
"You'll see an instant return"
---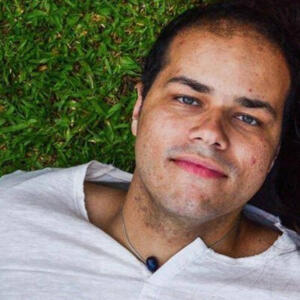 Arthur Dias | The King's Voice
communication coach
★★★★★
---
---
"Kieran's Viral Inspiration Lab is a gamechanger"
---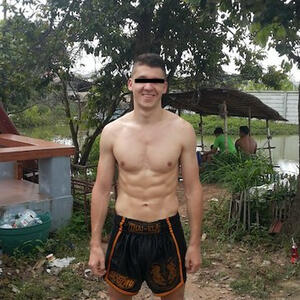 Takezo | Sword of Clarity
mindfulness coach
★★★★★
---
---
"This gave me timeless principles for everything I do on Twitter now"
---
---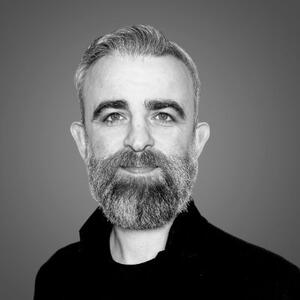 Stephen | Success Theory
self performance and mindset coach
★★★★★
"I wish I had a tool like this when I started using Twitter. I have spent a few hours studying some of the best tweets and threads; this is an extremely valuable resource."
The Writer's Gift
Writer & Storyteller
★★★★★
"I've been using the Viral Inspiration Lab for a week now, and I've seen 4 tweets get over 200+ likes. Following the tips Kieran provides and using the material for inspiration is a guaranteed growth hack. This is exactly what you need to take your social media strategy to the next level."
Anthony Knobbe
fitness coach
★★★★★
"The Viral Inspiration Lab has been great for my writing. There's so many great ideas in there and it's been super helpful with creating content. The video course is also great for helping with my message on Twitter. Great purchase for the cost."
---
🧪
THE VIRAL INSPIRATION LAB
"Creativity is just inspiration having fun"
Albert Einstein
I don't want to tell you how much time I've spent on Twitter so you don't have to.Every single day for the past year I've saved EVERY viral tweet and thread from the best writers, creators, coders and entrepreneurs...The Viral Inspiration Lab is the result.As soon as you open up this database, you'll have an insane number of threads and tweets so you can see exactly how the pros are killing on Twitter... and how you can too.Here's what you'll enjoy:
Quite possibly THE largest database of ultra-viral threads and tweets online
Trust me:It's impossible NOT to have ideas when you just need to whip out your phone and scroll.And what's more…Every thread is organized into the 7 most important topics so you can quickly see the viral patterns everyone is taking advantage of right now.The only other database this size almost costs the same PER month.
How to write threads so compelling that people can't help but like, engage and follow you for more…
Chances are you may not think you're a great writer. And because of that, you avoid threads....but the truth is if you write 1-2 a week for 6 months, your growth will be insane.And after writing 72 of them, I've learned a secret or two to get them right. This 52 minute video course will show you:
The little-known reason why threads are THE most important focus as a writer looking to grow on Twitter

The biggest mistake 90% of people make when they choose thread topics and what you should do instead

The 10 most viral thread templates for growth and authority and which to focus on if you have no audience (yet!)

How to write killer 'hooks' that catch attention and go viral because the first tweet decides 90% of the result

The best way to structure threads so your audience can't help but keep scrolling

Why most people screw up by finishing their threads wrong leaving thousands of followers and dollars on the table

The advice I wish I heard 2 years ago on how to go viral, grow an audience and grow with threads
You'll also get ANOTHER course that covers multiple topics, including:
The simple method behind the Looking Glass Technique... and how to use it to create a compelling message and your 'Niche of One'
You'll see examples from several creators on how effective this technique is for getting great engagement.What's more, you'll learn how to use your audience's attention and feedback to create a unique and compelling message.The result?A niche, unique to you.
And you'll discover:
How to use your writing to attract your ideal reader and convert followers to fans
When you understand the 3 pillars of magnetic writing, you can see how simple words can attract an audience and create the foundations for online success.
And finally...
A dead-simple process to unlock your inner creativity with as little as 10 minutes a day
I teach this exercise to my clients, and, without fail, their writing skill has catapulted.You'll quickly find that your ideas are bubbling under the surface, just waiting for you to uncover them.
Here's a sneak peak inside:
"The fastest way to grow"
I have to be honest.I've mentioned your audience will skyrocket when you use the Lab. But that's not the point.That's the result.Let me explain…Imagine when you write and you've got over a thousand tweets and threads for instant inspiration…You're not scratching your head thinking of ideas…And you're not wasting ideas posting what you THINK will work.Instead, you're emulating the pros.So every time you publish, you improve. You find your voice fast. You get confident.And more importantly:You learn the skill of writing. Not little hacks and tricks, but the fundamentals. So in 3 months… 6 months… 12 months… you just keep getting better and better.And THAT's the point.Because here's the truth:One of the best things about writing is making a real difference for your audience.So as you grow as a writer, you grow as a person (if you can excuse the cliché).(I get daily messages about how my tweets and threads have helped someone - and it doesn't feel real compared to a year ago).And trust me:As you build a reputation for being clear, concise and useful, you
become someone worth paying attention to.A stand-out writer in your niche.
---
---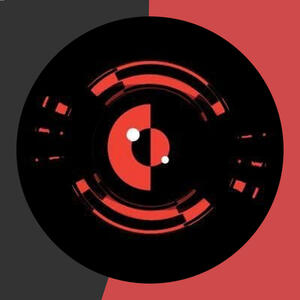 Based Realist
writer
★★★★★
"Brother Kieran, I absolutely loved the Viral Inspiration Lab!Never seen someone explaining the process of writing tweets & threads so perfectly. Got to learn a lot of new things. And the library of Threads is just perfect. You've solved one of my greatest problems of writing shitty hooks, haha.Thanks for building it. Gotta say it's highly undervalued."
---
---
---
---
---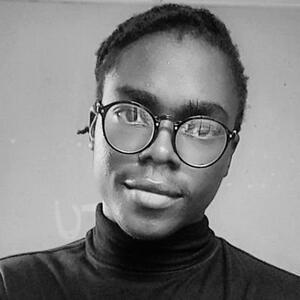 Jake Victor
copywriter
★★★★★
"When I first started writing on Twitter, I used the Twitter search bar to find what's working in my niche and how I could use it to grow my audience. But it took me several minutes hours to find anything I could use for inspiration. But with the Viral Inspiration Lab, everything is in one place. One click and the idea pops in. Brilliant!"
---
---
---
---
---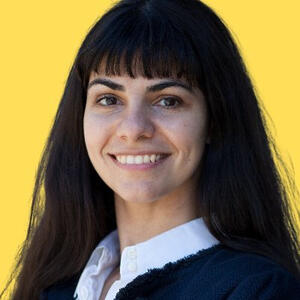 Julia MacDonald
SAAS FOUNDER
★★★★★
"Kieran's Viral Inspiration Lab is an amazing audience building course! It has incredibly useful content on audience building, Twitter thread writing, content writing, digital storytelling and much more.Moreover, Kieran keeps updating it with new and relevant information, so its value keeps going up.If you are looking to grow on Twitter or as a copywriter, this course is a must!"
---
---
---
---
---
---
---
---
---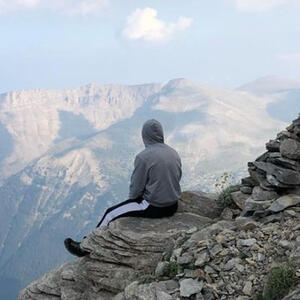 Vilson
writer
★★★★★
"Kieran has put together a great collection of tweets and threads that will help you get your creative juices going. Highly recommended."
---
---
---
---
---
---
---
---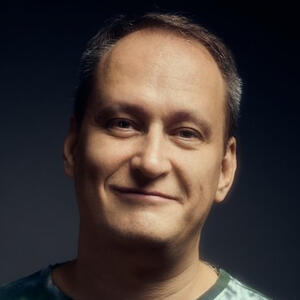 Eugene Kalinin
Business Coach
★★★★★
"There comes a time when you don't know what to write. The database in the Viral Inspiration Lab is an ultimate solver. I just open it and start reading through tweets or threads. It takes me a minute or two to get an idea for my next tweet. It just pops up in my head, really. And it's a good one, because it's inspired by good ones. Magic."
---
---
---
---
---
---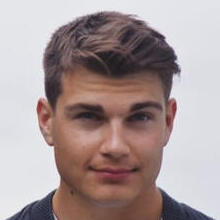 Dakota Robertson
Writer and entrepreneur
★★★★★
"I went through Kieran's course and he's got a solid understanding of what works on Twitter. I've seen him go from 1000 followers to 16,000. He's definitely figured out what works and has applied it himself. If you want to write on Twitter, this is what you need."
---
---
---
---
---
---
---
---
---
---
---
---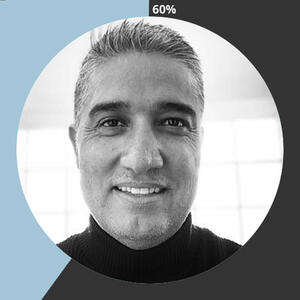 George Sisneros
twitter growth / accountability / life
★★★★★
"Damn. This curated list of inspiration is mind-blowing. Imagine going to the Louvre to get inspired to paint. That's what the Viral Inspiration Lab is.I've already dissected some of the threads to better understand why they went viral!"
---
---
---
---
---
---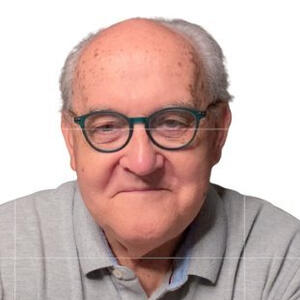 Dr. Paul Fitzgerald
Course Creator & Coach
★★★★★
"Learning the skills of social media writing and attracting an audience can be daunting. There are so many voices shouting to use their methods. I've learned from several - some helpful and others far too general.Kieran's Viral Inspiration Lab is exceptionally helpful. The combination of curated examples from which he developed his own skills and his easy-to-understand text and video lessons, is a gold mine for me. Kieran's style is refreshingly unpretentious and authentic without the hype of over-promising. I can highly recommend the Viral Inspiration Lab and his personal coaching."
---
---
---
---
---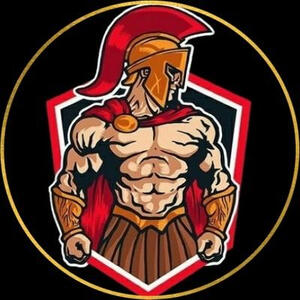 Spartan Psyche
transformation coach
★★★★★
"Kieran's **advice on writing is absolutely fantastic **and The Lab is a powerful resource for anyone on Twitter. Well worth the investment."
---
---
---
---
---
---
---
---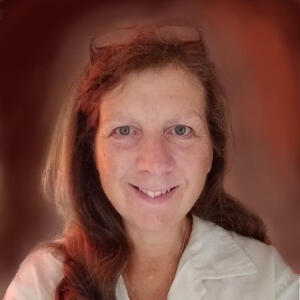 Jill Metcalfe
Notion Expert
★★★★★
"The Viral Inspiration Lab contains everything Kieran knows about growing a Twitter following. He doesn't hold anything back. This is honest, authentic advice, backed up with a database of hundreds of successful tweets that you can use for inspiration to write your own.Kieran's done everything for you. All you have to do is put in the work."
---
---
---
---
---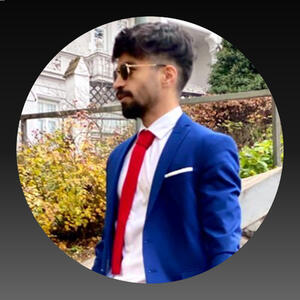 Pranav
writer and community founder
★★★★★
"Kieran has completely changed the game with The Viral Lab. The video tutorials & multiple volumes of tweets & threads break down the core concepts of writing highly engaging content online.I've used it for a week and crossed on one of my tweets 1k likes already!If you're a beginner or expert, this product is a must have!"
---
---
---
---
---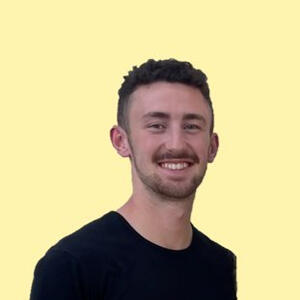 Logan | Landing pages
designer & copywriter
★★★★★
"It's quite literally a bank of the best-performing tweets on this side of Twitter. Not only is this a great resource to find inspiration, but you also teach them how to come up with their own, content plans, and a structure to follow at different follower counts."
---
---
---
---
---
---
---
Jena Garcha
GRAPHIC WEB DESIGNER
★★★★★
"Kieran's Viral Inspiration Lab has been extremely useful for inspiration. The guides are also laid out so clearly.The thought and effort that's gone into this is insane. Great quality - highly recommend for any newbies struggling to get momentum on Twitter."
---
---
---
---
---
---
---
---
---
---
---
---
---
---
---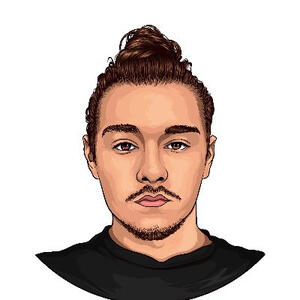 Eliot Rathe
copywriter
★★★★★
"I normally search for hours every week to find inspiration. Now it's a matter of minutes. Everything is organized in one place.I literally can't exit the lab without being flooded with ideas."
---
---
---
---
---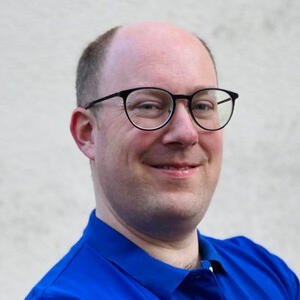 Chris
productivity writer
★★★★★
"I had a baby recently and on those days when I can barely scrape my chin off the floor, let alone come up with ideas for Twitter content, the Viral Inspiration Lab has made my life so much easier. And since I bought it, Kieran added more and more resources until it became the place I go whenever I have free time (which admittedly isn't often) to improve my writing, storytelling—and even my overall Twitter strategy. Easily worth the investment, if you ask me!"
---
---
---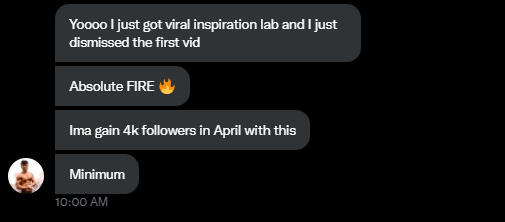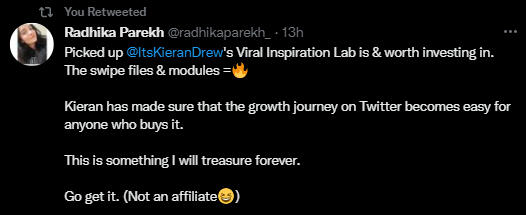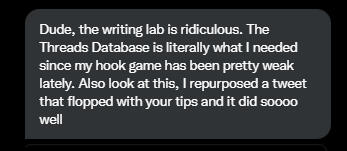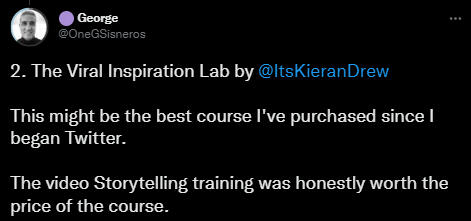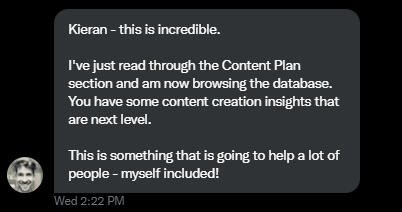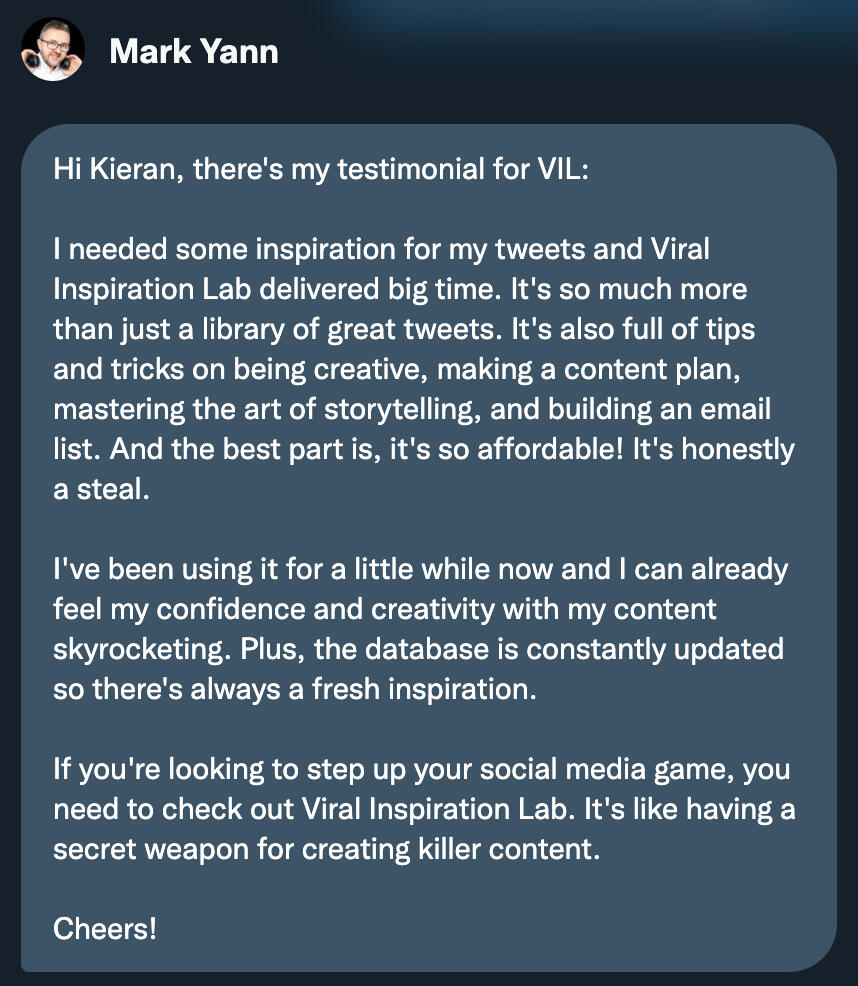 ---
---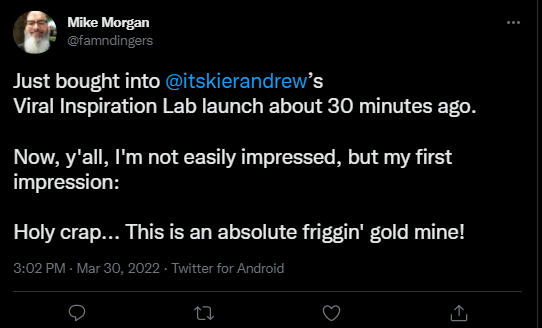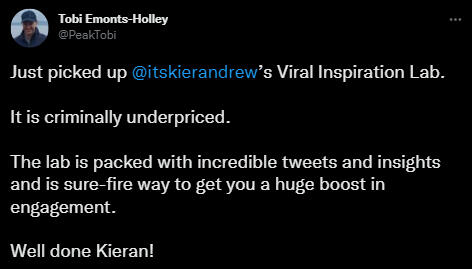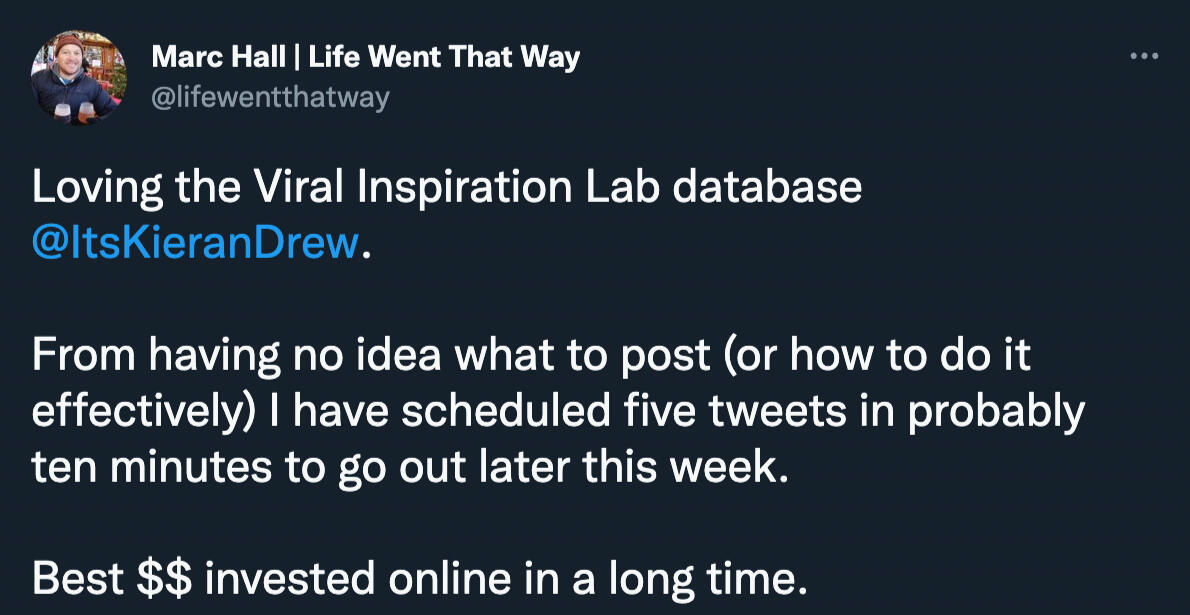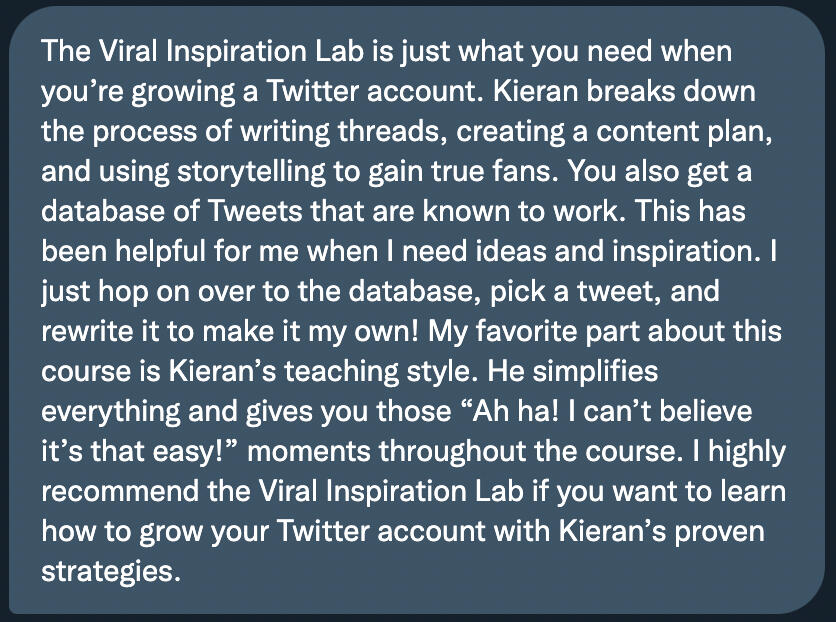 ---
📖 🧪
INSIDE THE VIRAL INSPIRATION LAB
I'll promise you this:If you want to be a great writer on Twitter, you will NOT get as much value anywhere else.(trust me, I checked).The only other database this big costs you $250.…or $50 per month!!And that doesn't come with the course on thread writing or creating your unique niche…Or the juicy bonuses you'll discover in just a moment.And when they see how much you've got this for...They won't be happy.But truth be told, I don't care.It's my mission to help as many people write their way to freedom online.And as you can see, you get everything you need to kill it on Twitter.But I won't ask for $250.In fact, I won't even ask for half that.If you're interested in what I've told you today, here's all you need to invest:
MINI LAB
$59 USD
✓ 736 Tweet Database (NO LIVE UPDATE)
x Live Thread Database
x No courses or modules
---
FULL LAB ACCESS
$249 USD
✓ Live Tweet Database (1200+)
✓ Live Thread Database (400+)
✓ All courses, modules and bonuses
---
After you sign up, you'll get a link for instant access to the Viral Inspiration Lab so you can start writing killer tweets and threads immediately.What's more…That's LIFE-TIME access.It's already doubled in size since I built it and the price has gone up twice.So when there's 2x, 5x or even 10x the amount of viral content…You can be happy knowing you locked in at an absolute steal.But that's not all.What's more... I'll chuck in a few bonuses – completely free of charge.
BONUS #1
THE "MAGNETIC WRITING" CONTENT PLAN
Value: $29
Struggling to decide what to write about?This content plan makes it easy. It's a break down of the psychological principles you can use to attract an audience the right way.Inside, you'll discover:
The top 10 tweet formats that ALWAYS perform well, with examples for each so you can quickly adapt them to your own message

What the Twitter pros are saying when it comes to the best times to post (and more importantly, not post) so you can maximize engagement and minimize wasting tweets and threads

How to align your content with the 3 pillars of magnetic writing to create an irresistible pull for your future fans

The steps you need to take to grow your audience depending on where you are now (0-1000 is A LOT different to 5000+)

Why you don't need to post all day to grow… and the optimum number of tweets and threads you should share instead
BONUS #2
POWERFUL DIGITAL STORYTELLING SEMINAR
VALUE: $199
You get instant access to a recorded training when I discuss the fundamentals of storytelling online.Why should you care?Because storytelling slices through the online noise.It's how you stand out and differentiate yourself. In this 90-minute value-packed presentation, you'll learn:
How to build your brand around "The Hero's Journey" so your audience is hooked on your message

How to tell your story on Twitter through simple tweets and threads… without coming across as self-absorbed

Why the "Progress in Public model" is the most powerful path for online success… and how you can do it right

How to establish yourself as a pro within your niche in half the time using the "Authority by Association" technique

How storytelling translates to business… and how to productize your progress instead of waiting for years to 'become an expert'
BONUS #3
THE ULTIMATE COPYWRITING RESOURCE COMPILATION
VALUE: $79
If you understand the fundamentals of copywriting, you'll have no problem building an audience and business online.I've spent hundreds of hours gathering the best resources online (both free and paid) so you don't have to.Inside, you'll see:
The only 10 copywriting books you should buy… And why I DON'T recommend the usual classics you see everywhere

The YouTube channels to check out that will give 100x more value than any $1997 copywriting course

Who to follow on Twitter to 10x your writing skills… and a compilation of the best threads

Over 69 podcasts JUST on copywriting that I've found to have seriously useful information

The greatest courses online (both free and paid) so you're not left guessing which to give your focus

The email copywriter lists you NEED to sign up for if you want to see how great copy is put together every day

Over 140 sales pages… both classic and modern – so you can study the experts
---
---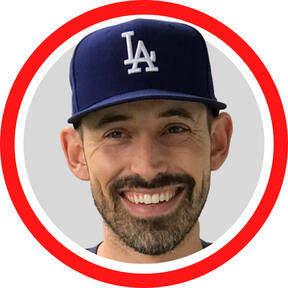 Phillip Rivers
7-fig email marketing agency owner
★★★★★
"The bottleneck for me is always ideation. Viral Inspiration lab has cut my writing time in half. This is a must buy if you're trying to write better."
---
---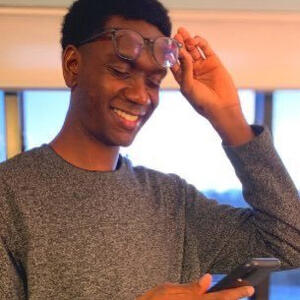 Ken | The Writer's Guild
writer and community founder
★★★★★
"The Viral Inspiration Lab is super helpful and useful for learning about the process of writing . Before this course I didn't realize how the looking glass technique was so engrained into how people wrote tweets but now I look at the process completely differently."
---
---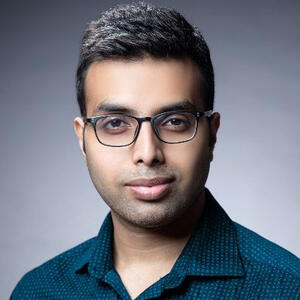 Subhajit | Resilient Human
life coach
★★★★★
"This is an incredibly valuable resource that you've put together. The content plan is packed with gems. And I really like the content pillars. I've been in this game for quite a while now. Still, I picked up quite a few things that I'm excited to try out. And the viral database is an unlimited source of inspiration
Amazing job Kieran!"
---
---
🤯
"My Mind Hasn't Been Blown"
60 day guarantee
I promise getting access to the Viral Inspiration Lab is an insane investment. I haven't had a single person say otherwise.But if for ANY reason you decide it's not for you, you're also covered by my "My Mind Hasn't Been Blown" 60 DAY GUARANTEEI've made sure that you risk NOTHING when you give the Lab a try.You must notice a difference in how much your engagement improves…And I want you to be cranking out awesome threads and tweets that build an audience and authority…If you don't find that's the case, even after 2 months…Just say the word, and I'll happily give your money back. No hassle. No questions asked.
I love that you're still here.…you must really enjoy copywriting.Which means you're like me and need to get out more.So let me be honest.You don't need this product.It's not hard to build, although it may take 12 months to get this amount of data together…And you can figure out threads yourself. I did – it wasn't easy, but it's not impossible.And maybe you're already pretty good at telling stories.But chances are you're looking to accelerate your progress as a writer…And when you use the wealth of resources inside the Lab, you'll save potentially years of time and energy 'figuring it out' yourself.And I'm not like most marketer's who'll tell you that if you don't buy my product immediately, your fingers will drop off.But what I will tell you is this:You and I are at the start of something special online.The internet is changing the game.You're already seeing thousands of creators who've built an audience go on to create insane businessesAnd it all starts with writing.So here's how I see it:You can invest just $119 to upgrade your writing at NO risk. And worse case, you're in the same position as you are now. You get your money back and no harm done.But best case?Well…The potential of what being able to write does for opportunities is no joke.Spend a bit of time learning the right way, and you can spend your life doing what you love.
---
I'm not a good writer, will this work for me?
Hell yeah. Honestly, I can't tell you how much I've improved since I started this technique. I've helped clients go from zero to killing it using the same principle. The Lab will help you find your groove fast.
Isn't this just copying other people?
There're plenty of copycats out there on Twitter and I have no interest in you becoming one. That's why I built the video course. I dive into how to be unique online and integrate that into your message.
I'm not sure what makes me unique and I haven't achieved anything, can I use this product?
The best part about writing online is that you're telling your story in real time - so you haven't achieved anything yet. And you don't need many talking points to build a digital identity - just sharing your ideas from many angles. After the course you'll understand how.
I struggle to be consistent – will this be a waste of money?
"Consistency is key"Easy to say but I know it's damn hard when you're not getting results.I almost quit 4 times in my journey. However, the Viral Inspiration Lab made the process much easier and and much more enjoyable.
I want to write about X topic. Will the Lab work for me?
I take tweets from EVERY niche.Why?Because the most creative ideas come from looking outside of your field. Some of my most well-received writing tweets have come from weightlifting and philosophy.The best way to stand out in your niche is to look where everyone else isn't. A database from every topic is the perfect way to achieve this.
I don't have long to write, will this work for me?
No time is exactly why this product will work for you. I used to spend hours looking for inspiration, thinking of ideas and packaging tweets. Now everything I need is in one document. I spend 10 minutes a day writing my tweets (and don't use half of them).
Is this product just for writers?
Twitter is the perfect platform to play the online game. If you're an entrepreneur, coder, creator or just interested in actually making a difference with your ideas, the Lab is perfect for you. Take a read through the testimonials...
I don't know my niche, will this product help?
Absolutey. You don't decide your niche – you create it. I'll teach you how to do this in the video course.
Do you really spend hours on Twitter each day?
It's best we don't talk about it.
---
---
---